Traveling to Nigeria presents widespread security challenges. Not only because of the jihadist mutiny operating in the Northeast but other armed gangs who have taken power in the remainder of the country. As such, assuring secure travel in Nigeria is no easy feat. This is further complicated by the Nigerian police force being underfunded and understaffed.
The country faces growing instability from acts of terrorism, crime, and kidnappings so much so that a state of emergency has been in effect since 2013. In poorer communities, impunity runs rife and many criminals go unpunished.
To safeguard citizens traveling to Nigeria, nations like Canada and the UK have advised residents against any non-essential travel. The region of Adamawa, Borno, and Yobe are high-risk areas you ought to avoid. Because of the unpredictable security situation in Abuja, Calabar, and Lagos, travelers must use a high point of caution and plan travel accordingly to remain safe.
Sadly, travel to these areas bares people to the risk of terrorism, kidnapping, armed attacks, inter-community, and militant violence. In any case, being responsible for your safety when abroad is no joking matter. So, choose your protection company wisely.
Kidnap-for-Ransom: The Most Lucrative Business in Nigeria
Nigeria has long been under attack by local bandits who abduct and hold ordinary Nigerians for ransom. Bandits have racked in some $5 million from regular civilians this year alone. No wonder locals are quick to voice their fear over targeted kidnappings. Considering this, for many people the possibility of abduction is an existent threat.   
In the past six months, some 1,000 abductions have happened in the region of the Lagos-Ibadan corridor, Abuja, and Port Harcourt. The oil-rich and volatile area of Delta has been privy to an increasing number of kidnappings. The majority being schoolchildren during mass abductions. Sadly, some 300 abducted students have yet to be returned to their families.  
What is more, the fear that anyone is a target for kidnapping, no matter if a foreign traveler, a student, or an average oil-mine worker, is based on realistic expectations and facts. But why do these kidnappings keep happening? For one thing, kidnap-for-ransom is a very lucrative trade in Nigeria. They are quickly gaining strength and sophistication in the way they operate.
Members of security agencies have themselves been abducted and their families forced to pay a ransom for freedom. Fundamental logistical challenges make the situation worse. In fact, gangs operate primarily in vast mountainous forests, with no government presence and no access roads.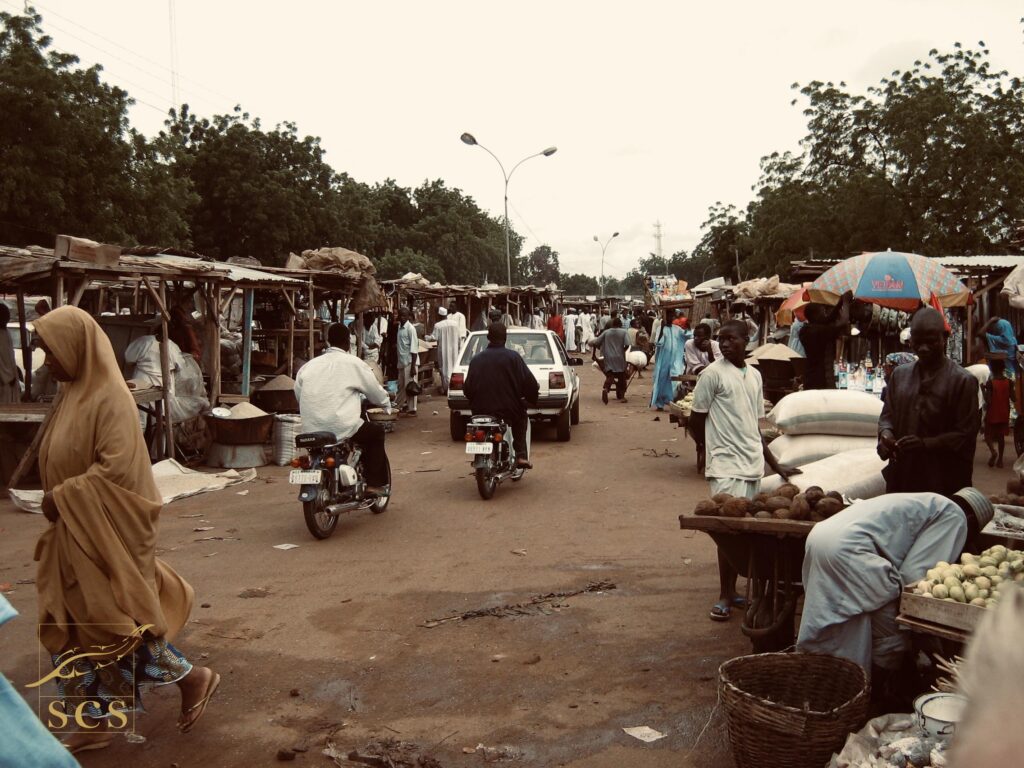 On the Rise: Kidnappings of Foreigners in Nigeria
Kidnappings continue to happen because they pay well. Period! Furthermore, the combination of underfunded security forces and illicit access to guns is a recipe for record numbers of abductions. Foreigners in Nigeria are not exempt and the kidnapping ordeal is an ongoing issue.
Earlier this month, several armed men abducted a Swiss national and his Nigerian driver in the Southeast Lagos region. As the Nigerian security forces search for the kidnapped individuals, the FDFA and the Swiss foreign ministry are working with the Nigerian authorities to unearth information.
Pro-tip: The risk of politically or criminally motivated kidnappings makes foreign workers prime targets.
From a practical perspective, it is not easy to mitigate kidnappings in Nigeria. Abductions are high-risk businesses, requiring the immediate involvement of local and federal law enforcement. However, given that Nigerian security forces are highly under-resourced and rife with corruption, their capability of addressing this problem is questionable.
Minimizing Kidnap Risk and Surveillance Detection
The booming rate of abductions in Nigeria means proactive security tools and strategies that preempt danger are necessary. Using hostile surveillance detection is beneficial to help drastically reduce the risk of a successful kidnapping attempt. 
Kidnappers are known to surveil their victims before any abductions take place. In other words, hostiles conduct pre-attack information gathering. And so, if security teams identify such threats early enough, they are much more likely to instill proactive operational strategies and increase awareness.
Here are a few factors to take into account when pursuing counter hostile surveillance. First, to identify any sort of threat actors, utilizing tactics of a high standard is a must. Indeed, criminal and terrorist groups have time on their side to slowly build up an intelligence picture.  
Specialist counter-surveillance teams put in place preventive measures so that hostile surveillance is unaware it is there. In this case, they are far more likely to make mistakes or become complacent and thus be identified a lot quicker.
That is why considering counter-surveillance teams and close protection officers (CPOs) or executive protection agents (EPAs) with intensive training for high-risk clients is unavoidable.
Value of Armed Escorts: Commuting Through High-Risk Areas
Anytime a company sends an employee on a business trip, they must ensure their safety while traveling. As such, the demand for effective travel security services has grown rapidly in recent years. Because prioritizing the welfare of a traveling employee means businesses seek extra safeguards by way of executive protection and safe travel services.
During an emergency, the use of armored vehicles, bulletproof cars, security officers, and medics is a necessity. Moreover, the purpose of bulletproof rescue vehicles is to move people ― hostages or wounded victims ― to safety or transport medical personnel to the site.
The great thing about these vehicles is they can withstand sustained gunfire. The F‐550 truck chassis, for example, is designed to hold up to 12 fully armed officers and features a shell of steel plating for ballistic protection. That is, with the best security detail members escorting the principal through hazardous areas with tact and precision.
Note: Armed security in Nigeria can exclusively be provided with the assistance of armed police escorts equipped with AKs.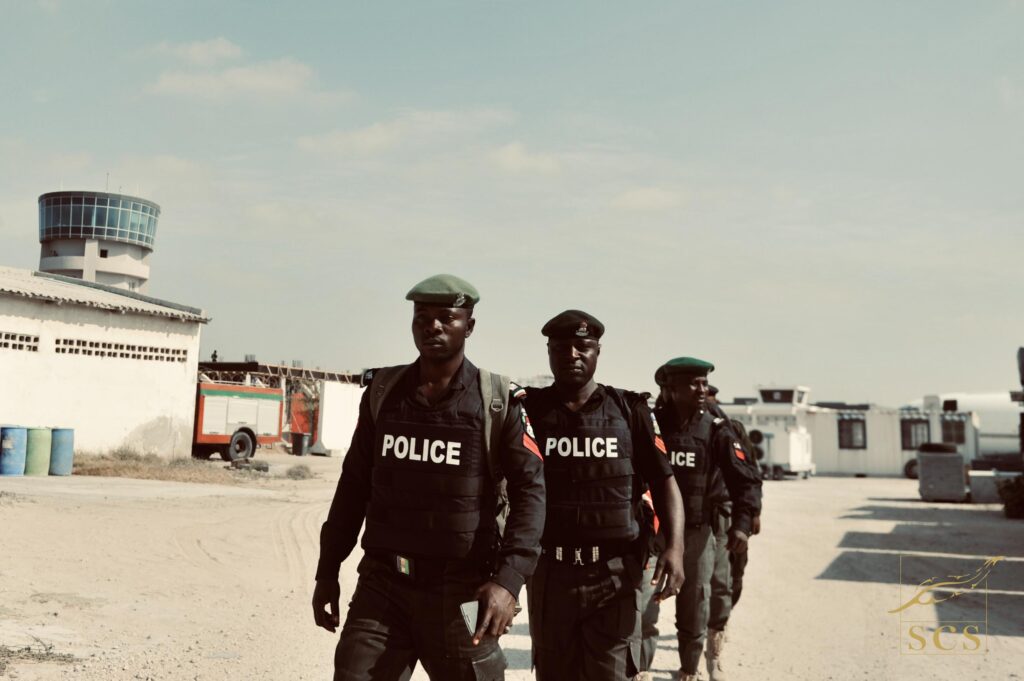 EP Mitigating Petty Crime and Helping Secure Travel in Nigeria
Executive protection security services have a place in the fight against petty crimes. Throughout the country, minor physical violence, purse snatching, carjacking, and pickpocketing are happening in crowded locations, all hindering secure travel in Nigeria. A good EPA is careful when on assignment, especially in regions with growing insecurity.
Remember: carelessness kills! One certainty is being extremely vigilant.    
CPOs learn the geography of the city and remain careful at all times for your safety as their client. Furthermore, avoid traveling after dark and steer clear of the outskirts of the town. Check with your executive protection detail if they conducted the advance work before any outing. That means knowing where the safe drop-off points are and the right elevator to take in a building. Safety is in the details.
It isn't only security officers who need to remain careful and on guard. Foreigners abroad need to reduce any opportunities for harm while overseas. For one thing, they can use various security measures to avoid becoming a kidnap-for-ransom hostage, assuring their secure travel in Nigeria.
And yet, there is the simple question: Is it enough? It is worth the time and effort to consider whether or not the security measures they're providing their employees actually suffice. After all, it's always better to be safe than sorry.
Final Word
Just a few months ago, police launched Operation Restore Peace to help control the growing level of insecurity in the Southeast and facilitate secure travel in Nigeria. This plan aims to lessen the rising crime rate throughout the country.
There is hope that with the involvement of Nigeria's military and intelligence agencies, criminal acts will be tackled.
Regardless, there is a benefit to using EP services even in the most unstable of places. Many EP security firms work in conjunction with the local police force to provide protective services for their clients.
Companies like SCS have a strong presence throughout Africa, Togo, and Nigeria, so drop us a line to find out how we can help you become safer and more productive on the ground.