According to the Legatum Prosperity Index, Ethiopia ranks 150 out of 167 countries worldwide. The said index is a framework assessing countries on the promotion of their residents' flourishing, and reflects both economic and social wellbeing. Moreover, the state's worrying prospects in economic quality, infrastructure, and social capital contribute to its general instability. Therefore, we will analyze some critical aspects of secure travel in Ethiopia for foreigners visiting for pleasure or business.
A Never-Ending Civil War
There is a lot to say about the current Ethiopian state of affairs, and the ongoing armed conflict is only of them. During the Tigray War ― called that way due to the disputed territory where it is waged ― Ethiopian and neighboring Eritrean forces are trying to defeat the rebellion led by the regional Tigray government in Ethiopia's north.
Actually, the roots of conflict in this crumbling state date back decades. The dispute's origins lie in ethnic discrimination against distinct groups, including Somalis, Harari, Oromo, Sidama, etc. As the years passed, ethnic massacres and coup d'états only grew in scale and brutality.
The conflict is as complicated as they come, and doing business ― and sometimes barely making it alive ― in large portions of the country requires immense caution. Worryingly, no matter the effort that some organizations invest in mitigating the consequences, it seems that one thing is for sure: Ethnic violence and rebel activity are not going anywhere soon.
Without taking sides and going into unnecessary details, let us examine the various aspects of secure travel in Ethiopia today.
No-Go Areas for Foreigners
As of 2021, many outside governments, including the US, UK, and EU member states, advise their citizens against traveling to Ethiopia. As a matter of fact, they only counsel essential or humanitarian-related travel, as visiting for leisure could be risky.
And that is not all. Here are some of the other problems plaguing modern-day Ethiopia:
Kidnappings and crime,
Civil unrest and violent demonstrations,
Terrorism and landmines,
Shallow awareness of COVID-19.
Although we could also maintain the last point for some western countries, the level of COVID-19 information available to Ethiopians remains scarce.
By now, it is clear that Ethiopia does not resemble a safe place even remotely, above all due to ethnic conflicts. On that note, as for the regions that numerous foreign state-run travel advisories deem unfit for travel, we present you with a short list:
Tigray and Amhara regions,
Border areas with Eritrea, Sudan, South Sudan, Somalia, and Kenya,
East Hararge and Guji zones, and
Benishangul Gumuz and the western part of Oromia Region.
If your first thought was ― Well, which areas are safe for travel? ― that is our point exactly. Most of the country is in a dire situation, and things seem to be deteriorating by the day.
Yet, despite all of this, executive protection companies like SCS offer solutions to ensure secure travel in Ethiopia. This does not exclusively encompass HNW individuals and CEOs, but also NGOs requiring security on the ground to do their work unobstructed.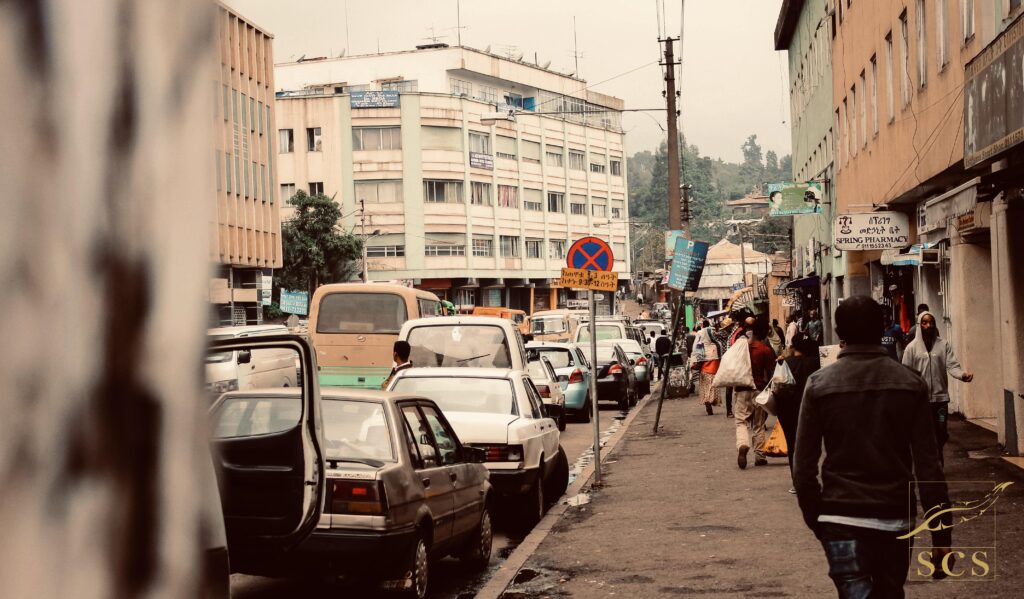 Driving and Walking Through Ethiopia
As someone traveling from abroad to Ethiopia, endemic crime and frequent kidnappings are your primary concerns. However, one of the best ways to make sure you and your entourage are safe and sound is to drive vehicles that are suitable for the country's unforgiving roads.
The poor infrastructure makes it virtually impossible for many cars to survive without significant malfunctions. For this reason, we at SCS recommend the following vehicles that we have tested on the ground:
4×4 Toyota Landcruiser, and
4×4 Toyota Prado.
They are excellent options to enjoy secure travel in Ethiopia. The reliability and ruggedness of these vehicles will remind you of other legendary off-roaders. Considering the extreme environment, they will be the practical and comfortable solution.
Generally speaking, Africa has around 31 kilometers of paved road per 100 square kilometers of land. This compares to 134 kilometers of paved road in other low-income countries. Ethiopia is no exception to the rule, while optimal routes vary according to the subregion.
Per the working paper by Harvard doctoral student Tilman Graff, Ethiopia's transportation infrastructure is predominately structured north-to-south. It has few trails that facilitate travel from east to west. Moreover, the most efficient mode of transportation in some, even less developed parts of Ethiopia is walking.
In any case, choosing Toyota's Landcruiser or Prado is a safe bet while on the road through the country.
COVID Impact on Secure Travel in Ethiopia
Security professionals have always had to adapt to emerging trends and events. The same applies to the current COVID-19 crisis that some health experts believe will continue until 2024 in its current form. Although developed countries may return to normalcy by 2022, more impoverished regions will have to wait longer.
Executive protection agents and teams need to up their game regarding personal protection equipment in their regular work. As a matter of fact, gloves, face masks, sanitizers, and whole personal protection kits have become integral to the EP professional's daily job. Security companies are now more than ever tweaking their programs and procedures to accommodate clients.
Some of the measures they are taking cover:
Reducing the risk of viral infection,
Educating drivers and agents to use PPE correctly,
Disinfecting vehicles or meeting rooms the client is going to enter, and
Finding out about potential health issues of the party the client is meeting.
Several executive protection teams nowadays have an agent who dedicates considerable portions of their time to cybersecurity. Perhaps the next step is to have the team leader become familiar with health standards. Such an action would enormously contribute to the client's well-being during crises of this kind.
When meeting business associates and CEOs in Ethiopia, your security detail must always bear in mind the low level of awareness of COVID. In fact, Ethiopians engage in plenty of debate on whether they need vaccines at all, despite the advice by leading world health authorities.
With almost 300,000 confirmed cases so far and only 1% of its population receiving two shots, Ethiopia is among the most endangered regions in the world. So, that was another thing to be wary about when traveling to the African nation.
In Conclusion
Although public officials claim to be doing plenty in countering the pandemic and local infrastructure troubles, little of these efforts are visible on the ground. The security industry has a severe challenge on its hands: How to provide secure travel in a war-stricken country with poor infrastructure and low awareness of the most pressing health crisis of our age?
Although a definitive answer to this question may be hard to convey, this article presented you with some advice on ensuring you stay safe and healthy in Ethiopia.
For your information, executive protection companies offering secure travel in Ethiopia must regularly:
Check updates on lockdowns and other restrictions,
Adapt their health measures to suit specific situations, like attending public conferences or one-on-one meetings,
Avoid no-go areas troubled by continuous civil unrest and increased risk of kidnappings,
Propose Toyota's Landcruiser and Prado for any trip in the country, and
Prepare for contingencies.
In fact, drop us a line to find out how SCS can assist you in being as productive as possible while en route.