Besides being one of the most exciting places to visit in West Africa, Nigeria also boasts the largest economy on the continent. The reasons to visit the country abound. From jaw-droppingly beautiful landscapes and a rich culture to alluring business opportunities and biodiversity, it is the ideal place to explore West Africa's limitless possibilities. As a result, an important topic on a steep rise lately has been luxury and safe travel in Nigeria.
However, one should not dismiss security concerns for which most parts of Africa are known. In fact, staggering poverty across the country profoundly affects the surge in crime we have been witnessing for decades. For example, some of the most significant security concerns in the Federal Republic of Nigeria ― as it is officially known ― entail:
Jihadism, especially the terrorist group Boko Haram,
Kidnapping and banditry, mainly affecting local communities,
Separatist insurgency in Nigeria's southeast, and
Oil militants in the Niger Delta region.
Despite all of this, most African countries are increasingly becoming attractive for leisure and business touring. Truth be told, luxurious business trips to Nigeria are booming, as the largest industries in the country encapsulate:
Petroleum,
Tourism,
Agriculture, and
Mining.
Apart from these four, the telecommunications, retail, and financial sectors are also very dynamic. All this could count among the reasons CEOs, HNWIs, and managers frequently visit and enjoy luxury and safe travel in Nigeria.
Quick fact: Alternatively, corporate Nigeria's business travel expenses dropped by almost 37% due to COVID-19 lockdowns. Interestingly, only three of the 30 most prominent companies on the Nigerian Stock Exchange increased travel expenses in 2020. Although a challenge at face value, this reduction implies enhanced opportunities for foreigners doing or intending to do business in this African nation.
How to Enjoy Luxury and Safe Travel in Nigeria
We are aware that you care deeply about the lifestyle and personal preferences of your boss being met. As a personal assistant, office manager, or head of security, you want to choose the best destinations and accommodations for your CEO, HNWI, or manager.
High-net-worth individuals usually request a stealthy security team. Suppose your boss is like most high-ranking business executives. In that case, we understand they want no excessive exposure for their EP team. HNWIs and CEOs wish their protective agents to be in the background, not the foreground, as the latter is already preserved for them.
Making Your Boss Happy
Local coffee shops, restaurants, and business community meetings may be on your boss's radar as soon as they arrive.
But, if you genuinely want them to be radiantly happy and safe, we suggest considering the following questions:
Where will you be staying upon arrival in Nigeria?
Who will welcome you at the airport and drive your boss across cities and federal state lines?
How will you ensure safety and security around the clock?
When will your boss enter and leave the hotel?
What are the appropriate hours for staying outside?
Which areas should your boss try to avoid?
What vehicles are optimal for Nigerian roads?
Companies like SCS offer a specialized program for HNWIs, CEOs, and industry executives who wish to enjoy luxury and safe travel in Nigeria.
To arrive at the set destination in a timely and comfortable manner, EPAs help select the safest route. Although this doesn't always suggest the shortest way, agents are constantly vigilant in taking appropriate precautions.
Reminder: Consider hiring an EP team not to have to worry about assaults, higher-risk locations, hazards, and road ambushes. Your boss will be thankful for sparing them the trouble of selecting their security detail themselves.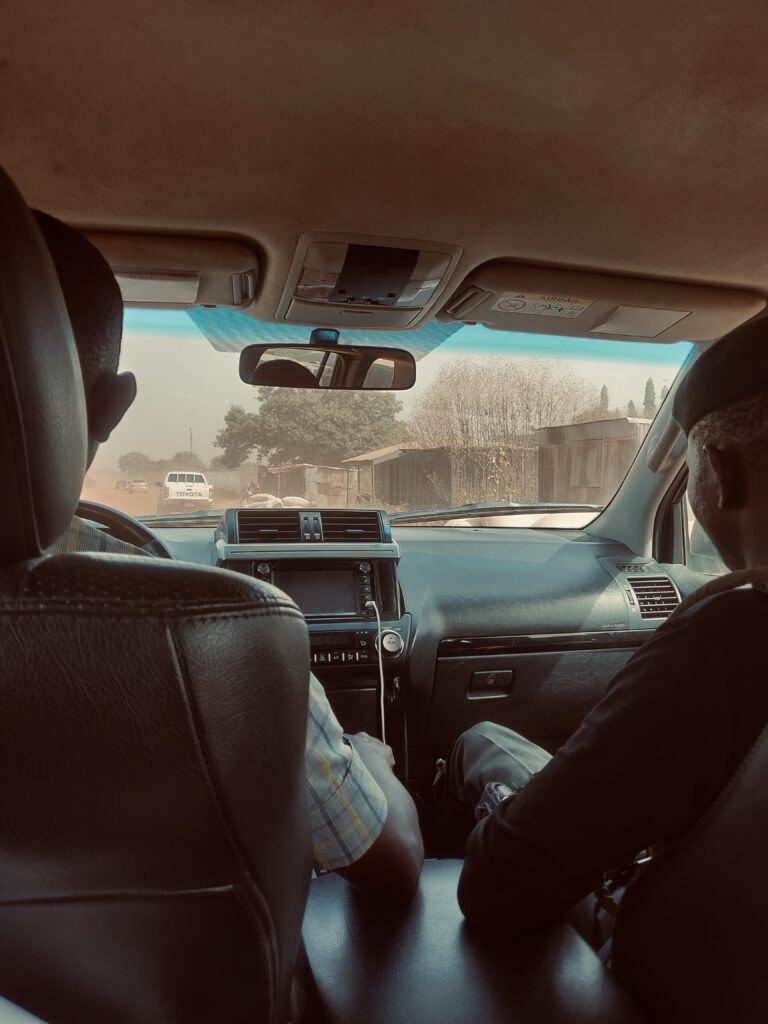 Downtime: Beautiful Places to Visit
It is a given that a luxurious business trip to Nigeria should include leisure activities. Fortunately, this West African gem has a lot to offer.
From outstanding waterfalls and caves to natural and suspended lakes to magnificent rivers and unique rock formations, luxury and safe travel in Nigeria has never been this vibrant. So, whether your boss is traveling alone or with their family and entourage, Nigeria's natural and human-made charms have plenty in store for their amusement.
While resting from a busy day's work, your CEO, manager, or other high-ranking business executive will presumably want to enjoy some of the country's beauties. Therefore, we propose you be the first to present the most attractive places to visit, such as:
Agbokim Waterfall in Etung,
Obudu Holy Mountain in Cross River State,
Awhum Cave in Enugu,
Lekki Conservation Center in Lagos State,
Zuma Rock in Niger State,
Ado-Awaye Suspended Lake in Oyo,
Riyom Rock in Plateau State, and
Mpape Crushed Rock in Abuja.
All these sites are as picturesque as they come. In fact, they are perfect for your boss's downtime ― under the watchful eye of their executive protection team, that is.
In any case, they will never need to look back as long as you hire an EP detail with the proper skills in place, including:
Security driving,
Transportation planning and journey management,
Medical support, and
Hotel risk assessment.
Chances are your boss needs access to all of these to truly enjoy their time navigating the country's cities, regions and states ― either for the sake of business or leisure. The company of a dedicated team of security professionals will help them only think of and handle what is essential. It will allow them to stop agonizing about personal security, as many do.
In Conclusion
Recognized as one of the major investment destinations and fastest-growing economies globally, Nigeria is near-perfect for doing business. Some of the key investing countries being the USA, China, United Kingdom, the Netherlands, and France.
Moreover, during unwind hours in-between work time, the country has plenty to offer to foreign travelers like HNWIs and business executives.
Nigeria still faces troubles in the form of jihadism, kidnapping, and banditry in some of its regions. Yet, state institutions are amassing efforts to counter them all. Although we advise against visiting some places, most urban and semi-urban parts of Nigeria are as good as ever to enjoy luxurious travel and conduct business.
To help ensure higher productivity, some executive protection companies make it their top priority to be as near and inconspicuous as possible. That means no imposing appearance and no unnecessary contact with your boss.
Thanks to executive protection companies like SCS, they can have the safety and security needed, as well as the peace of mind they deserve. Drop us a line to find out more.